Development and progress criteria for a country is generally measured in terms of annual GDP rate and living standards of its people; according to experts. Considering this fact and taking into account Pakistan's geographical location, political scenario, population and the time since independence; what are the specific factors that are determinants of its progress. Of course, foremost and important is financial development; which is slow but steady. Second most important factor in Pakistan's case is the military progress. With neighbours like India, China and Afghanistan; is Pakistan fully capable to defend itself and its assets? The answer is, YES!
In this article, we will have a quick look at the recent advancements in Pakistan Navy, although we don't have enough space to analyze the progress and development achieved by Pakistan Navy but we will attempt to shed a light on the recent developments. On September, 16th, Pakistan Navy launched its third Azmat-class Fast Attack Craft-Missile (FAC-M) and Maritime Petrol vessel (MPV). The redeeming feature of this feat is that this 600-ton craft is built at Karachi shipyard with the technical collaboration of China.
Azmat-class Fast Attack Craft-Missile (FAC-M)
Although it is only third Azmat-class corvette but such small vessels also add up to the overall navigation and operational capability of larger vessels. The primary responsibility of Pakistan Navy third missile capable fast attack craft includes maritime patrol, anti-surface and anti-air warfare, search and rescue operations and anti-piracy missions owing to its agility and fast maneuvering capabilities.
In a statement Chief of Naval Staff Admiral Muhammad Zakaullah tremendously appreciated these milestones and dubbed them as a significant step towards self-reliance. He further reiterated Pakistan's commitment towards peace and stability in the region and counter any terroristic activities by saying:
"Providing a safe and secure maritime environment is pivotal to the success of CPEC and Pakistan Navy is fully committed to this onerous task and a number of steps have been taken towards this end."
Specifications of Azmat-class Fast Attack Craft-Missile (FAC-M)
Length:                                   63m
Width:                                    8.8m
Draught:                                 2.46m
Displacement:                        560t
Structure:                               steel hull and aluminum
Gun System:                          25mm automatic gun, AK-630 close-in weapon system (CIWS) to combat anti-ship missiles and precision guided weapons, 2 batches of tube launchers
Missile Systems:                     2 quadruple missile launchers to fire eight C-802 anti-ship cruise missiles (equipped with inertial and terminal active radar guidance system)
Propulsion:                             4 diesel engines driving four fixed pitch propellers (FPPs) through a pair of two propulsion shafts
Speed:                                     max speed of 30kt and can attain a range of 1,000nmi
Accommodation:                   12 to 14 personnel
Special Features:                   stealthier design with modern missile & combat systems, surface search & tracking radars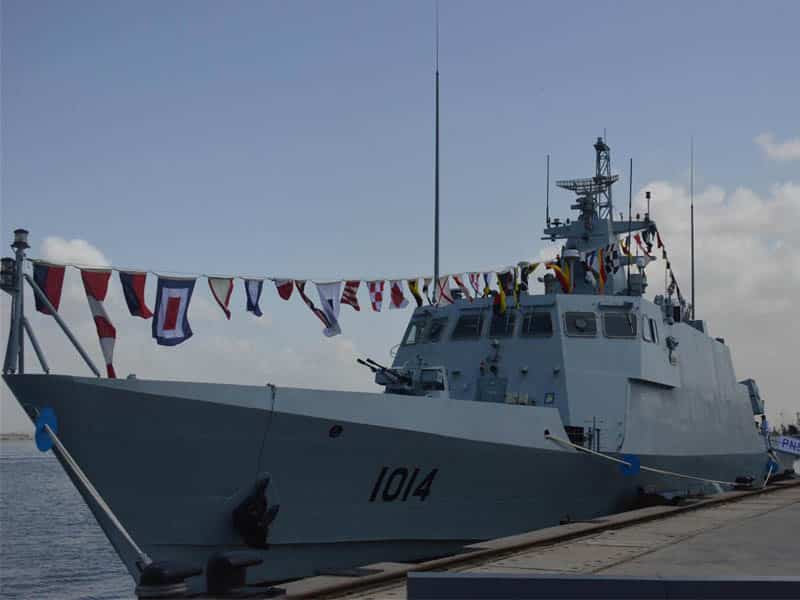 Pak Navy's warship fleet tanker
Only a month earlier on August 19, another Pak Navy's warship fleet tanker was launched. This warship tanker is an ongoing contract with Turkish Military. The tanker was built in Defense Industries Engineering Inc. (STM), Turkey for Pakistan Navy and reached Karachi on August 19. During the inauguration ceremony the Prime Minister Nawaz Sharif applauded the project of warship fleet tanker of Pak Navy and this cooperation between the two countries by saying,
"Pakistan is aware of the crucial role of the establishment of the shipbuilding industry in the country's economic growth and creation of job opportunities. The improvement of this industry will make significant contributions to the country's economy."
Pakistan Navy fleet tanker Project is an ideal example of a success story between Pakistan and Turkey (initiated in 2013) as the design, engineering and by-products were prepared by Turkey and the tanker was built at Karachi shipyard, thus proving to be a low cost project for both countries and beneficial in terms of 'technology transfer, capacity-sharing and common production features.'
This project is just the beginning of a series of upcoming projects. Upgrading of Agosta 90-B submarines and purchase of Ada-class corvettes.
Pakistan Navy's new fleet tanker has proved to be a phenomenal amelioration in the cooperation and construction of warships. The designing and engineering of twenty Turkish firms were involved in its manufacturing. This warship fleet tanker of Pak Navy cost around 90 million dollars, thus emerging as the biggest ship in PN.
Specifications of Warship Fleet Tanker
Weight:                                               1700-ton
Length Overall:                                 158 m
Beam (max):                                      2.16m
Draft (deep):                                      7m
Width:                                                22m
Speed:                                                 20 knots (max)
Endurance and range:                      10,000 NM at 15 knots
Propulsion and storing system:        2xDiesel engines twin screw CPP propellers
Accommodation:                               206 personnel
F-76/HSDO(Cargo & Bunker):       8158 tons
JP-5(Cargo & Bunker):                    150 tons
Fresh Water & dry ration (Cargo & Bunker):      1000 + 100 tons
Replenishment at sea system (can stay in sea independently for 3 months)
Helicopter landing pad
Equipped with superior logistical; defense and attack capabilities                              
FAC-M and Pakistan navy warship fleet tanker are the projects that best symbolize the highly appreciative relationship between Pakistan and China and Turkey. Manufacturing of these vessels in Pakistan and their production, though small, are vital in achieving self-reliance in defense capabilities of Pakistan Navy against a bigger adversary in terms of size, number and military capabilities.
Many factions in the world are labelling Pakistan as a country 'gone crazy with war frenzy', 'a terrorist state', a terrorism sponsoring state'; but for a moment pay heed to a fact that one man's terrorism is another man's freedom. Countries like Israel, India or the Us are free to indulge in mass accumulation of sophisticated weapons and mass-scale activities in the name of human rights and freedom. But when the same is done by Pakistan, why is it considered a crime? Why? To conclude, I only have to say that yes this article is an attempt to tell the world that a country riddled with problems is fully capable of defending its sovereignty from both internal and external factors.
About the Author:
Dr Shema Bukhari – a writer and freelance expert blogger – is a PhD scholar in Communication and Media Management. She is proud to have done extensive research concerning "Indo-Pak relations", which eventually triggered her interest in the intricately delicate affairs of this region and the relations with the whole world. She maintains an objective stance over crucial issues and strives to inculcate the sense of awareness and responsibility among all.