Pakistan SSG commandos are the cardinal and independent special forces of Pakistan Army. Headquartered in Tarbela cantonment, this group is a regiment size and divided into 8 battalions. Famously, they are called "Black Storks" and "Maroon Berets". Very proudly they bear the motto "Mann Janbazam" (Trans: I am valiant).
SSG Commandos Pakistan are entrusted with the following primary responsibilities:
Unconventional warfare
Foreign Internal Defense
Special Reconnaissance
Direct Action
Hostage Rescue
Counter-Terrorism
Brief History of SSG Pakistan Army Commandos

Pakistan army commandos Special Services Group (SSG) was created in 1956 by combining 10 Baluch and 312 Garrison Company, thus automatically inheriting the glowing traditions of these companies. In 1965, the SSG Army Commandos were given the avocation of larger special operations.
War History
Indo-Pak War 1965
On the night of 6Sep, 120 officers and men were given the responsibility of rendering the Adampur, Pathankot and Halwara Indian airbases; ineffective. But the operation was not well planned and did not bring very fruitful results but the learnt lessons had far reaching effects.
Indo-Pak War 1971
SSG Pakistan Army Commandoes performed much better in this war despite military's surrender. One commando battalion succeeded in conducting a splendid raid on one of the Indian's regiment resulting in a serious damage.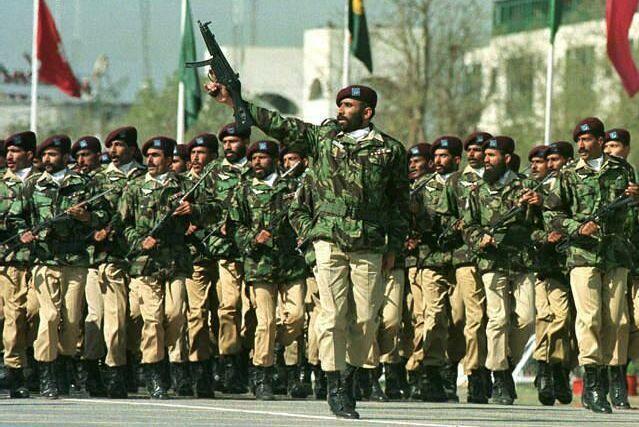 Soviet-Afghan War
The SSG Commandoes of Pakistan provided a vital and strategic support to mujahidin in their fight against Soviets. In the guise of Afghan mujahedeen, they inflicted heavy damage and casualties on Soviet forces and forced them to retreat.
Siachin and Kargil War
Although SSG commandos were not given full support by their own country during the Kargil operation because it was a disguised operation, still they managed to hold their positions and infiltrate the enemy lines, which resulted in heavy causalities on both sides.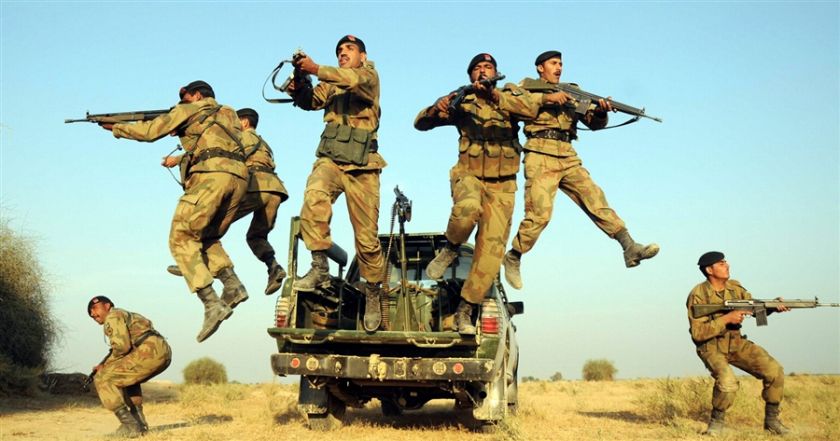 Military Operations
Apart from participation in the wars, this unit was also involved in various military operations:
In 1979, Operation Clean Up with French forces in Mecca
25 March, 1971; arrest of Sheikh Mujeebur Rehman during Operation Searchlight in Dhaka
September 1986, rescue of hijacked Pan Am flight
In FATA, along with US CIA' special activities division targeting al-Qaeda
February 1994, rescue of a hijacked school bus by Afghans
May 1998, rescue of PIA plane by BSF members
Lal Masjid operation in 2007
Covert Operation in United Nations military missions in Bosnia and Herzegovina, Somalia, Sierra Leone
Operation against militants in operation Black Thunderstorm in Daggar, Islamabad
March 2009, Lahore police Academy attacks
October 2009, Pakistan military headquarters attack
Interaction with other Units
SSG Pakistan army commandos have been actively involved in bi-annually military exercises with Turkish Special Forces. During 1980s and 90s, they were part of similar kind of exercises with US Special Forces. In 2006, SSG commandos Pakistan were involved in 80-day military exercises with China. They have also been involved in such military activities with Jordan, Iran and other Middle Eastern countries.
Famous Personalities

Major General Aboobaker Osman Mitha
Brigadier Tariq Mehmood (Brigadier TM)
Lieutenant Colonel Sajjad Ali Shah
Lieutenant Colonel Haroon Islam
General Pervez Musharraf
General Mirza Aslam Baig
General Shamim Alam Khan
Major General Ameer Faisal Alvi
Pakistan SSG commandos are the part of that institution which plays an indispensable role at the national and international activities concerning to the security and welfare of Pakistan – both at the times of peace and conflict. These are the men who valiantly upheld the spirit of their traditional values and at the same time adhere to the international standards of military excellence. Their dedication towards their aims and objectives can be realized from the fact that they are categorized as part of the top 10 special services groups among US, Germany, Austria, France and Israel.
Watch Pakistan SSG Commandos Videos of Training:
About the Author
Dr Shema Bukhari has expertise in current affairs, media and especially the issues concerning Pakistan and India. With an objective perspective she presents her point of view judiciously.